Tufte Weather In Matplotlib#
Hello, everyone! Welcome back to Cameron's Corner. This week, I want to dive into a topic of particular and personal interest to me: the origins of data visualization. In fact, I'm so passionate about it, I'll be hosting a seminar on March 17th, "Spot the Misleading Data Visualization!"
Edward Tufte is one of the pioneers of modern-day data visualization. In his work, he is brilliantly able to distill core concepts that can then be applied to nearly any form of visual communication. If you aren't familiar with his work and are interested in the topic of data visualization in general, I highly recommend Tufte's book, "The Visual Display of Quantitative Information".
Given the era in which they were created, almost all of Tufte's original works are hand drawn, relying on pen and paper. As such, his work is as artistic as it is informational, providing unique visualizations that focus attention and convey meaningful messages.
In this Cameron's Corner, I'd like to focus on his visualization of the weather in New York City over the course of the year 1980.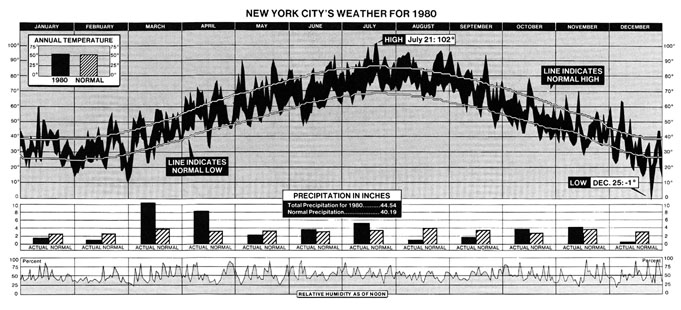 New York City's Weather for 1980 by Edward Tufte
While visually impressive, this single graphic also manages to communicate an abundance of information about how temperature changes across seasons and how 1980 was unique compared to other years.
Tufte revisited this visualization and created the 2003 version of "New York City's Weather in 2003."
New York City's Weather in 2003 by Edward Tufte
In the more recent version, you can see there is a bit more artistic flair through the use of colors as a highlighting tool as well as the removal of hatching patterns. The precipitation data that was represented as monthly bar charts is now represented as area charts, and the humidity information was completely removed.
Given the high quality of these graphics, I am challenging myself to recreate these works in matplotlib over this week and next. I often tout that matplotlib is a drawing tool that enables one to place completely arbitrary decorations and annotations to create complex data visualizations, but does it stand up against the high quality productions that Edward Tufte creates? Let's find out.
Wrap Up#
~400 lines of pandas and matplotlib code later, we have arrived at our end result. There are some things I could tinker with further, but I think overall we achieved the core goal. This is easily the most detailed visualization I've ever (re)created, and would definitely take on a project like this again in the future.
If you enjoy data visualization as much as I do, and want to see even more matplotlib, then come join me for my short seminar on Thursday, March 23, 2023, "Your matplotlib is Trash." I'll show you common plotting pitfalls you can fall into and how you can make better use of matplotlib to avoid them. Hope to see you there!